Coffee cakes became very popular in America in the late 1800s. It was not invented but has evolved as a combination of various styles of baking and native ingredients. Banana cake recipe are served with coffee, breakfast and even as desserts. Here is a simple banana coffee cake recipe with chocolate chip streusel that takes only 1 hour and 5 minutes to prepare.
Ingredients:
– 1 cup semisweet chocolate chips
– 2/3 cup (packed) dark brown sugar
– 1/2 cup chopped walnuts (I like to roast them a little before using)
– 1 tablespoon ground cinnamon
– 1 1/2 cups all-purpose flour
– 3/4 teaspoon baking soda
– 3/4 teaspoon baking powder
– 1/4 teaspoon salt
– 3/4 cup sugar
– 1/2 cup butter at room temperature
– 1 large egg
– 1 1/3 cups mashed very ripe bananas (about 3 large)
– 3 tablespoons buttermilk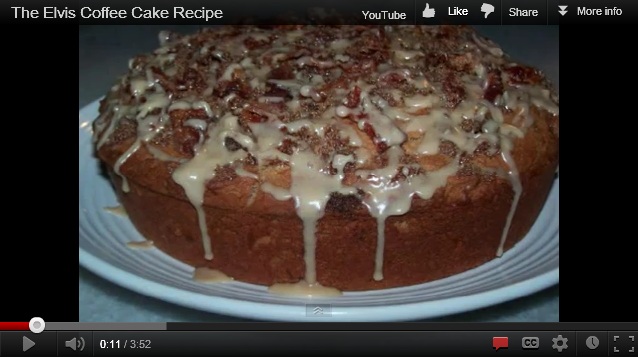 Instructions:
– Preheat the oven to 350F.
– Grease an 8×8 inch cake pan and lightly dust the insides with a little flour.
– In a clean bowl, take the dark brown sugar, chocolate chips, chopped walnuts and ground cinnamon and mix well. Your streusel is ready.
– In a separate bowl, take the flour, baking soda, baking powder and salt and mix well.
– In a mixing bowl, cream the butter and add the sugar to it. Blend well.
– Add the eggs and bananas to the mix and beat well using an electric mixer.
– Add the buttermilk and combine well.
– Stir in the vanilla.
– Add the flour mixture to the egg-buttermilk mixture, one spoon at a time, and mix well after each addition.
– Take the greased cake pan and pour half of the cake batter in the pan.
– Sprinkle half of the streusel over the batter.
– Add another layer of cake batter and sprinkle the remaining streusel over it.
– Bake in the preheated oven at 350F for about 45-50 minutes.
– Remove the cake from the oven and cool in the pan for 10 minutes.
– Cut the cake in little bars to serve.
Variation
The traditional streusel cake has only two layers but I make my own version with multiple layers. To do so, I use a silicone cake pan because they do not require any greasing.
Instructions:
– Layer a thin layer of cake batter at the bottom of the cake pan.
– Sprinkle some of the prepared streusel over it and then add another thin layer of cake batter.
– Repeat the steps until you get a nice layered cake.
– Bake in the preheated oven for 45 minutes.
Pin It