Cakes mixes can be easily prepared at home and stored in your pantry for months. Any time you feel like having a banana cake recipe, you can use the cake mixes to make delicious cakes as well as puddings. Here is an interesting banana cake recipe with cake mix that is delicious and moist and we guarantee that you will earn lots of praise for your baking skills.
What you will need:
– Yellow cake mix – 1 packet (4 cups)
– Large eggs – 4
– Ripe bananas – 3
– Vegetable oil – 3/4 cup
– Granulated sugar – 1/2 cup
– Milk – 1/4 cup
– Vanilla extract – 1 teaspoon
– Chopped pecans – 1 cup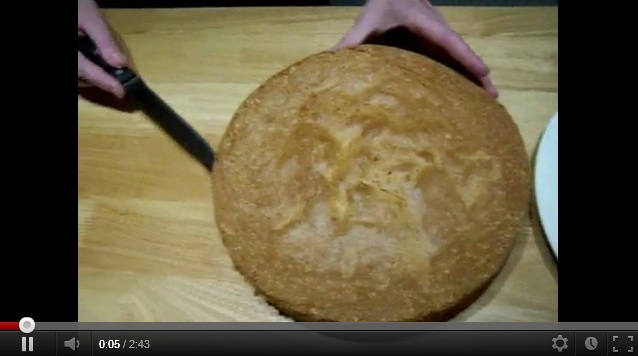 Method:
– Grease and flour a 10-inch Bundt cake pan using a little butter and all-purpose flour.
– Preheat the oven to 325F.
– Peel and mash the bananas using a fork.
– In a large bowl, mix the cake mix, eggs, mashed bananas, sugar, milk and vanilla extract.
– Use an electric mixer to blend all the ingredients together to a smooth batter.
– Stir in the chopped pecans.
– Pour in the greased Bundt cake pan and smooth out the top.
– Bake in the preheated oven for about 50-60 minutes until a skewer inserted inside comes out clean.
– Let the cake cool in the pan for 20 minutes before inverting on a wire rack to cool.
– Your cake is ready to serve and eat.
To make the cake mix at your home you will need:
– All-purpose flour – 4 cups
– Granulated sugar – 3 cups
– Baking powder – 2 tablespoons
– Non-fat dry milk – 1 cup
Method:
– Mix all the ingredients in a dry and clean mixing bowl.
– Store the cake mix in an airtight container.
– You can store this mix for months in the pantry.
For icing the cake you will need:
– Chopped pecans – 1 cup
– Butter – 1/4 cup (I use a little salted butter because I like the sweet and salty combination)
– Ready-made cream cheese frosting – 2 1/2 cups
Method:
– Melt the butter in a skillet and lightly fry the chopped pecans in the butter.
– Remove from the heat and add to the ready-made cream cheese frosting.
To assemble the cake:
– Cover the cake with frosting from all sides.
Points to keep in mind:
– Always use the ingredients at room temperature. Thaw the cake mix (if stored in the fridge) to room temperature before using.
– You can store the cake in the freezer for about 2 weeks, but thaw before using.
– If you are going to use the cake immediately, then let it cool in the fridge for about 20 minutes before icing to prevent the crumbs from falling off.
Pin It