A carrot cake recipe is a great source of fiber, vitamins, nuts and other nutrients and also delicious at the same time. If your kids are giving your trouble when it comes to eating their veggies you must try this simple homemade carrot cake recipe that uses coconut, pineapple, fresh carrots and nuts to provide a whole lot of nutrients.
Ingredients:
– Oil and flour to grease the cake pan
– 2 cups all-purpose flour (you can use a mix of whole wheat flour and all-purpose flour)
– 2 teaspoons ground cinnamon
– 1/2 teaspoon ground all spice
– 1/4 teaspoon nutmeg
– 1/4 teaspoon ground cloves
– 2 teaspoons baking soda
– 1/2 teaspoon salt
– 3 large eggs
– 1 1/2 cups granulated sugar
– 1/2 cup brown sugar
– 1 cup vegetable oil
– 1/2 cup sour milk
– 2 cups fresh grated carrots
– 1 1/2 cups of crushed pineapple
– 1 cup grated coconut
– 1 cup crushed nuts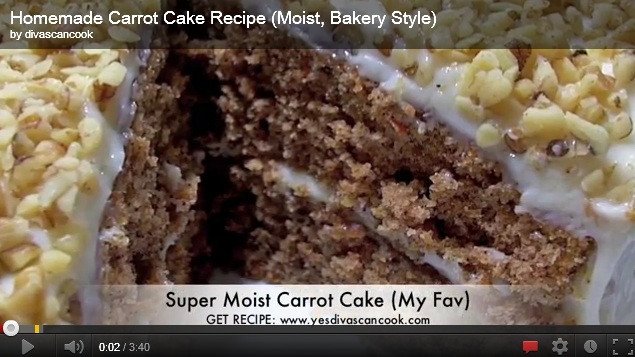 Instructions:
– Grease and flour a 10-inch cake pan.
– Preheat the oven to 350 degrees.
– In the meantime, take the eggs, granulated sugar, brown sugar and vegetable oil in a bowl and whisk well to combine.
– Add the sour milk and crushed pineapple to the mix and combine all the ingredients.
– In a separate bowl, take the flour, nuts, grated coconut, baking powder, ground cloves, cinnamon, nutmeg and salt and sift all the ingredients well.
– Add the dry ingredients to the wet ingredients and combine well. Make sure there are no lumps in the mix.
– Add the grated carrots and crushed nuts in last and gently fold the mix and your batter is ready to be baked.
– Pour the batter in the prepared cake pan and smooth the top.
– Bake in the preheated oven for 1 hour. Once the cake is done a toothpick inserted in the middle will come out clean.
– Cool the cake in the pan for about 10 minutes.
– Slide a knife along the sides of the cake to separate the cake from the pan and cool on a wire rack before applying icing.
Serving suggestions:
– You can serve the carrot cake as it is or apply a thick layer of icing before serving. Cream cheese icing is most popular with carrot cake, but a simple sugar glaze or a maple sugar icing also gives it a great taste.
– Decorate the top of the cake with sliced walnuts and shredded dates and chill for a little white before serving.
– Some roasted coconut on top of the cream cheese or butter cream frosting will double the taste of the yummy carrot cake.
Pin It