Whenever you are in a fix and are wondering what to make for dessert then a chocolate cake recipe is your best bet. It does not take much time to make and is loved by one and all. You can add many different ingredients to the cake and make it interesting. Here is a simple flourless homemade chocolate cake recipes that your family will surely love.
Ingredients:
– 500 grams bittersweet chocolate
– 115 grams unsalted butter (at room temperature)
– 9 large eggs
– 3/4 cup granulated sugar
– 2 cups heavy cream (cold)
– 3 tablespoons icing sugar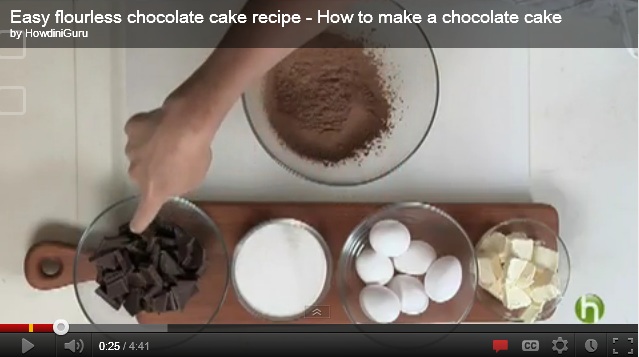 Instructions:
– Preheat the oven to 350F.
– Grease a 9-inch spring form pan. You can use a little butter for this.
– Chop the chocolate in small pieces.
– In a large bowl, add the chocolate and butter. Put this bowl in a double boiler. Make sure that the bowl containing chocolate does not touch the water.
– Let the butter and chocolate melt completely and stir well to mix.
– Remove and cool.
– Separate the egg whites and egg yolks.
– Add the sugar to the egg yolks and beat well for about 5 minutes until it is light yellow in color.
– Add 2 tablespoons of chocolate mix to this and set aside.
– Beat the egg whites until stiff peaks are formed. Gently fold the rest of the chocolate mix in the egg whites.
– Add this to the egg yolks mix and gently mix.
– Pour the prepared batter in the greased pan.
– Bake at 350F for about 40-45 minutes. Start checking from 35 minutes. The crust of the cake is supposed to be cracked but we don't want it to be too crunchy.
– Check by inserting a toothpick in the center; if it comes out with moist crumbs clinging to it then the cake is done.
– The cake will be firm on top and slightly wobbly in the center.
– Remove from the oven and cool for 10 minutes.
– Once the heat is out, cover the cake with a damp towel to prevent it from cracking up further.
– Whip the cream till it becomes fluffy.
– Dust the cooled cake with icing sugar and serve with whipped cream on the side.
Serving suggestions:
– You can also dust come cocoa powder on the cake for more flavor.
– Slice some strawberries and cherries and decorate the cake with them.
– You can also spread the whipped cream on the top of the cake and decorate with grated chocolate shavings.
– Chill in the fridge before serving.
Pin It