A chocolate cake recipe is one of the easiest and yummiest desserts to prepare at home. You can serve it plain, with cream, with various kinds of frosting, with ice cream, jelly, coffee, tea etc. You can eat the cake warm or cold and never go wrong with it. Here is a plain chocolate cake recipe for easy baking with scrumptious frosting.
Ingredients:
– 3 cups all-purpose flour
– 1 1/2 teaspoons salt
– 3/4 teaspoon baking powder
– 1 1/2 teaspoons baking soda
– 2 2/3 cups sugar (I like to use demerara sugar, but you can use plain sugar)
– 1 cup + 2 tablespoons unsweetened dark cocoa powder
– 1 cup + 2 tablespoons plain water
– 1 cup + 2 tablespoons canola oil
– 5 large eggs
– 3/4 cup water
– 1 1/2 teaspoons vanilla
Frosting:
– 5 large egg whites
– 1 cup + 2 tablespoons granulated sugar
– 4 sticks unsalted butter at room temperature
– 2 teaspoons vanilla extract
– Pinch of salt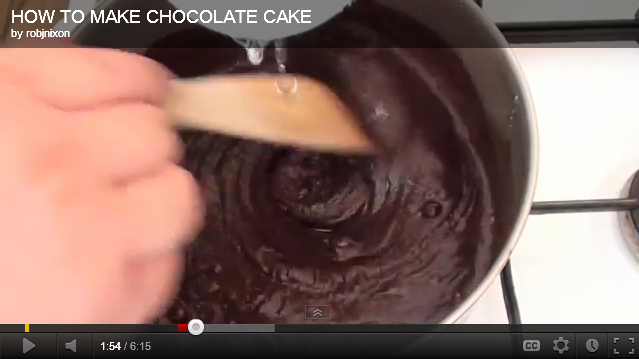 Instructions:
– Preheat the oven to 350F.
– Grease and flour three 10-inch cake pans.
– In a mixing bowl, whisk the salt, flour, cocoa powder, baking powder, baking soda and sugar. Make sure that there are no lumps in the mix.
– In a separate bowl, take 1 cup + 2 tablespoons of water and 1 cup + 2 tablespoons of canola oil and mix them together to get an emulsion.
– Take the eggs, 3/4 cup of water and vanilla and whisk them using an electric blender for 2 minutes.
– Add the oil and water mix and blend well.
– Now add the dry ingredients to the above mix and combine all the ingredients well to get a smooth mix.
– Pour the prepared mix in the greased cake pans, filling each cake pan up to 3/4 level.
– Bake in the preheated oven for 25-35 minutes. Check after 25 minutes by inserting a toothpick in the center.
– Remove from the oven and cool for about 15 minutes before removing the cakes from the pans.
– Wrap the cakes in foil and freeze for 2 hours before using.
Frosting instructions:
– In a double boiler, take the egg whites and sugar and whisk continuously until the sugar is dissolved and the egg whites are hot.
– Remove from the heat and whisk some more to get a glassy mix. Let it cool.
– Cut the butter in small cubes.
– Add the butter to the egg mix and use a paddle attachment to incorporate the butter in the eggs and get a smooth mix.
– Add the vanilla and salt and mix well.
– You can add various flavors and color to this frosting.
To assemble the cake:
– Place the cakes on top of each other with a thick layer of frosting in between each of them.
– Cover with remaining frosting on all sides.
– Chill in the fridge before serving.
Pin It