The red velvet cake is essentially a chocolate cake but it has an attractive red color that makes it the perfect cake choice for Valentine's Day. This Valentine's you can surprise your loved ones with one of my favorite red velvet cake recipes from scratch. This red velvet cake recipe is shaped like balls and then dipped in chocolate.
Ingredients:
– Cocoa powder – 1/4 cup
– Red food coloring – 2 tablespoons
– Hot water – 1/4 cup
– Unsalted butter (at room temperature) – 6 tablespoons
– Vegetable shortening – 2 tablespoons
– Sugar – 1 2/3 cups
– Large eggs – 3
– Buttermilk – 1 cup
– Vanilla extract – 1 teaspoon
– Cake flour – 2 1/2 cups
– Salt – 1 teaspoon
– Apple cider vinegar – 1 tablespoon (you can also use plain vinegar)
– Baking soda – 1 teaspoon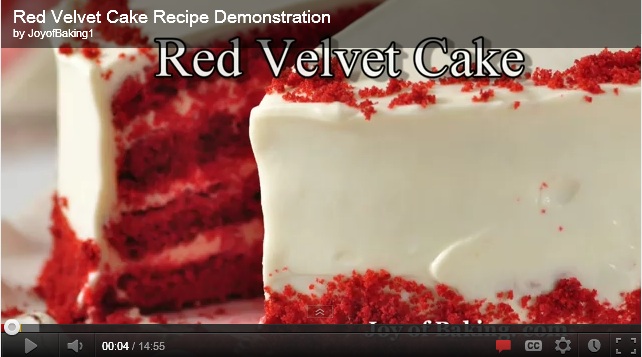 Instructions:
– Preheat the oven to 325F.
– Whisk the cocoa powder, hot water and red food coloring in a bowl. Set aside to cool.
– In a separate bowl, take the butter and shortening and whisk together to get a smooth mix. Add the sugar and mix some more.
– Break in the eggs, one by one, and beat at a low speed using an electric mixer until you get a fluffy smooth mix.
– Add the buttermilk and vanilla to the cooled cocoa mix and whisk well.
– Sift the cake flour and baking soda in a bowl and divide the mix in two parts.
– Whisk one part in the egg mix and the other in the cocoa mix.
– Fold the two parts together.
– Stir in the vinegar last.
– Pour the prepared batter in a greased 9-inch pan.
– Bake in the preheated oven for about 1 hour or until a skewer inserted in the middle comes out clean.
– Remove from the pan and cool completely before preparing the balls.
Ingredients needed for making the balls:
– Cream cheese frosting – 1 1/2 cups
– Chocolate bark – 1 packet
Instructions:
– Once the cake is cooled completely, crumble it in a large bowl. The cake is moist so don't worry if it sticks a little.
– Add the cream cheese frosting to the crumbled cake and mix well.
– Use your hands to roll the cake mix into small balls.
– Freeze in the refrigerator for about 2 hours.
– Melt the chocolate in the microwave.
– Dip the cake balls in the melted chocolate until coated from all sides.
– Set the balls on a parchment paper until firm.
– Drizzle the cake balls with a little caramel sauce and cool in the fridge till it is time to serve.
Pin It