Every once in a while you want to satiate your sweet tooth with something that is easy to make and tastes absolutely out of this world. And Banana Cake recipe is perfect for all occasions. Especially in the summers when cold, sweet and refreshing are the magical words, the following banana split cake recipe will fulfill your every need.
Ingredients:
– 2 cups graham cracker crumbs (about 32 crackers)
– 1/2 cup melted butter
– 1/4 cup sugar
Filling ingredients:
– 1/2 cup softened butter
– 2 cups confectioner's sugar
– 1 tablespoon milk
– 1 teaspoon vanilla extract
– 3 large bananas
– 2 cans pineapple
– 2 kg strawberries
Topping ingredients:
– 2 cups heavy whipping cream
– 1/4 cup confectioner's sugar
– 1 1/2 cups chopped walnuts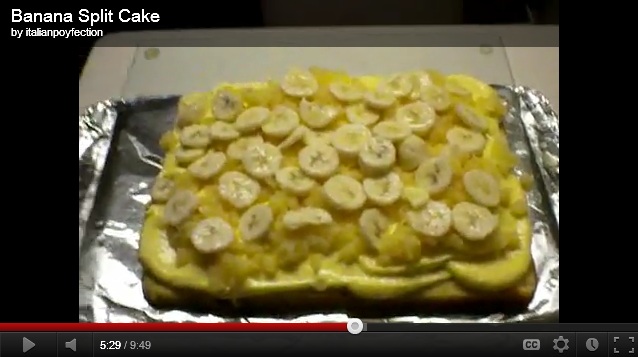 Instructions:
– To prepare the crumbs, break the crackers in small pieces and run them in a mixer at high speed. Remove from the jar into a mixing bowl.
– Add the butter and sugar to the crumbs and mix well using a spoon.
– Take a 13 x 9 inch glass dish and press the prepared crumbs onto the dish and push it around the edges. Press to get a smooth and even layer. Be careful around the edges; they should not be thick or thin.
– Preheat the oven to 350F and bake the dish for about 5-8 minutes. Remove from the oven and cool.
– Slice the bananas into 1/4 inch round discs.
– Remove the pineapple from the can, drain them to remove any water and crush them.
– Slice the strawberries in thin slices.
– In a bowl, cream the butter and sugar until light and fluffy.
– Add the vanilla and milk and beat some more. Use an electric blender as it will remove the lumps easily.
– Spread the filling on top of the cooled crumb base.
– Smooth the top using a spatula.
– Chill in the refrigerator for an hour.
– Remove and decorate with crushed pineapple.
– Arrange the slices of banana on the top in a circular manner.
– Top with sliced strawberries.
– In a separate bowl, beat the whipping cream to get soft peaks.
– Add the confectioner's sugar to the cream and beat some more to get stiff peaks.
– Spread this on top of the fruits and liberally sprinkle with chopped walnuts.
– Refrigerate for 4-5 hours before serving.
– If graham crackers are not available at your home, you can also use crushed Oreo cookies or vanilla wafers or any other of your favorite crackers.
– If fresh strawberries are not available then you can also use strawberry glaze on top of the bananas for the same yummy taste.
Pin It