Carrot cake recipe is healthy and nutritious and I often bake it for tea parties and office gatherings. However if, like me, you also feel that cutting up the cake and serving it in plates is a somewhat difficult job then baking muffins is a simple solution. Next time try out this healthy carrot cake recipe in muffin molds.
Ingredients:
– 3 cups flour
– 1/2 cup sugar
– 1 teaspoon baking soda
– 1 teaspoon baking powder
– 1/2 teaspoon salt
– 1 1/2 teaspoons cinnamon
– 1/8 teaspoon all spice
– 1/8 teaspoon ground cloves
– 2 eggs
– 1/2 cup oil
– 1 cup grated fresh carrots
– 1 cup peeled and grated apple
– 1 cup chopped walnuts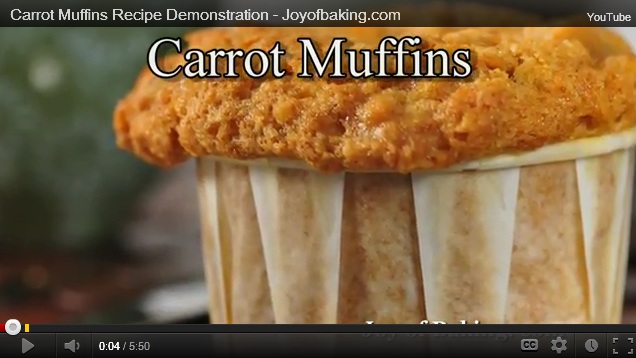 Instructions:
– Preheat the oven to 400F.
– Beat the eggs and sugar until fluffy and light in color and the sugar dissolves.
– Add the oil and beat well to get a smooth emulsion.
– In a dry bowl, mix the flour, baking soda, baking powder, cinnamon, all spice and ground flour.
– Add the dry ingredients to the wet ingredients and blend well.
– Stir in the grated carrots and apple.
– Add in the walnuts.
– This recipe will make 24 standard size muffins.
– Grease the muffin molds.
– Pour the batter in the muffin molds. Fill only 3/4 way up to leave some space for the muffins to rise.
– Bake in the preheated oven for 20-25 minutes until firm on top.
– Remove and cool before frosting or serving.
– You can serve these muffins with butter, jam or peanut butter.
Tips:
– You can replace the flour with a mix of whole wheat flour, oat flour and barn.
– You can also add some oats to the mix or sprinkle some oats on the top.
Icing for the carrot cake
Lemon Icing
Ingredients:
– 3 cups powdered sugar
– 2 lemons
Instructions:
– Grate the lemons to get a tablespoon of lemon peel.
– Juice the two lemons.
– Mix 1 tablespoon of lemon peel and the juice of two lemons with the powdered sugar.
– Drizzle the icing over the muffins and let it set for some time before serving.
Syrup glaze for the muffins
Ingredients:
– Juice of 1 small orange
– 1 tablespoon lemon juice
– 1/4 cup dark brown sugar
Instructions:
– Whisk the orange juice, lemon juice and sugar until light and fluffy.
– When the muffins come out of the oven, stab them with a skewer all over.
– Pour the sugar glaze all over the muffins quickly.
– Let the muffins cool before serving to allow the cake to absorb the glaze.
Pin It