Sometimes you have to be very careful when baking cakes or preparing anything for children because they are very prone to allergies. Also, you need to take care that whatever recipe you choose is healthy and well-loved. That's why carrot cake recipe is always a best choice. Here is one of my favorite healthy carrot cake recipe that uses fresh carrots and is as healthy as it can get.
Ingredients:
– 3 to 4 large carrots
– 2 1/2 cups apple juice concentrate
– 1 1/2 cups raisins
– 2 cups whole-wheat flour
– 1/2 cup vegetable oil
– 2 eggs
– 4 egg whites
– 1 tablespoon vanilla essence
– 3/4 cup unsweetened applesauce
– 1/2 cup wheat germ
– 2 tablespoons baking powder (choose one with low sodium content)
– 1 tablespoon ground cinnamon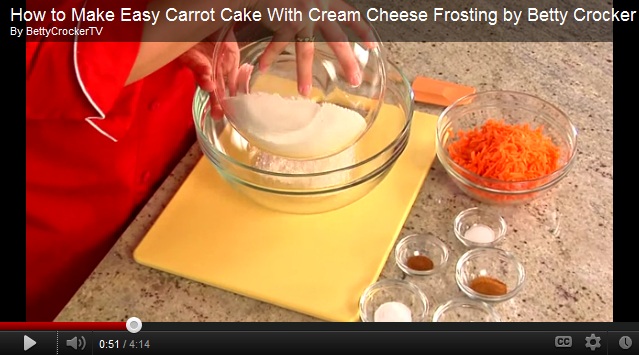 Instructions:
To make the carrot puree:
– Thinly slice the carrots and take about 2 1/2 cups of carrots with 1 cup plus 2 tablespoons of apple juice.
– Bring the mix to a boil, cover the pan with a lid and let it simmer for 15-20 minutes.
– Put the mix in a blender and blend until smooth.
– Set aside to cool completely before using.
– Beat the egg whites into soft peaks.
– In a bowl, take the eggs and the rest of the apple juice concentrate and whisk them using an electric blender.
– Add the vegetable oil, vanilla essence and raisins and blend well.
– In a dry bowl, mix the whole-wheat flour, cinnamon, wheat germ and baking powder. Mix well.
– Add the dry flour mixture to the wet mix and blend well.
– Slowly add the cooled carrot puree and mix well to get a smooth batter.
– Add the applesauce.
– Add the egg whites to the mix and fold gently.
– Spray a 9-inch cake pan with a little vegetable shortening so that the cake does not stick to the bottom.
– Pour the batter in the cake pan.
– Bake for 35-40 minutes on 350F.
– Check by inserting a knife in the center; if it comes out clean the cake is done.
– Cool briefly in the pan before removing from the pan and cooling on a wire rack.
Instead of the traditional cream cheese frosting, use this cashew nut frosting on the top.
Ingredients:
– 150 grams unsalted cashew nuts
– Juice of 1 orange
– 1/3 cup icing sugar
– 1 teaspoon vanilla essence
Instructions:
– Soak the cashew nuts in water for a few hours.
– Drain the water and add the orange juice to the cashew nuts.
– Grind them in a food processor to get a smooth paste.
– Add the icing sugar and vanilla and blend for 1 more minute.
– Spread on the cooled cake and enjoy!
Pin It