In the last few years, carrot cakes have become a rage among cake lovers all over the world. My favorite healthy carrot cake recipe is one that contains lots of fruits. Carrots themselves are very rich in vitamin A and the fruits add a lot of flavor to them. Do try out the following carrot cake recipe at home.
Ingredients:
– 2 cups flour
– 1 medium-sized orange
– 2 teaspoons baking soda
– 1 teaspoon baking powder
– 2 teaspoons ground cinnamon
– 1/2 teaspoon grated fresh ginger
– 1 pinch salt
– 1 cup low fat mayonnaise
– 1 1/2 cups sugar
– 3 eggs
– 2 teaspoons vanilla
– 2 cups fresh grated carrots
– 1 can crushed pineapple with juice (if you are using fresh pineapples then take about 30 grams)
– 1/2 cup toasted pecans
– 3/4 cup dried cranberries
– 100 grams dried raisins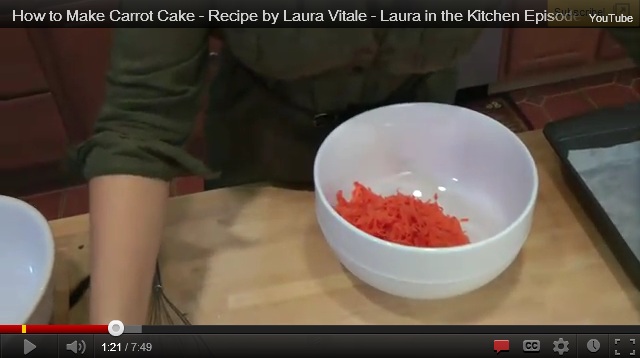 Instructions:
– Preheat the oven to 350F.
– Use a fine grater to grate the orange zest and take about 3 tablespoons of juice.
– Soak the raisins and half of the zest in the orange juice.
– Separate the egg white of one egg and add a pinch of baking powder to it.
– Beat well until you get soft peaks. Set aside.
– In a separate bowl, take the egg yolk and break in the other two eggs.
– Add the sugar and beat well to get a fluffy mix.
– Add the mayonnaise and vanilla.
– Use an electric blender at high speed to mix all the ingredients.
– In a dry bowl, mix the flour, baking powder, baking soda, cinnamon, roasted pecans and dried cranberries.
– Add the dry ingredients to the egg-mayonnaise mix to get a stiff mixture.
– Now add the grated carrots and crushed pineapples along with the juice.
– Add the ginger.
– Fold in the orange soaked raisins.
– Add the egg white mix in last and gently fold it in.
– Grease three 8-inch round cake pans, or you can use one 20-inch big cake pan.
– Pour the batter in the greased cake pans.
– Bake at 350F for about 50 minutes to 1 hour or until a wooden stick inserted in the middle comes out clean.
– Take the cake out of the oven and gently remove from the pan.
– Let it cool on a wire rack before serving.
To serve the cake
Frosting ingredients:
– 250 grams soft cheese
– 1/4 cup melted butter
– 2 cups icing sugar
– 1 teaspoon lemon juice
– The rest of the orange zest from the cake recipe
Instructions:
– Blend the cheese and butter together until well blended.
– Slowly add the icing sugar and blend well after each addition.
– Stir in the lemon juice and orange zest.
– Spread the frosting on the top of the cake (if you have one large cake); or you can stack the smaller cakes on top of each other with a layer of frosting in between.
– Cut up in little squares to serve.
Pin It