Cake recipes come in many forms, sizes, shapes, textures and colors. One of the classics is the Red Velvet Cake Recipe. This particular one is made from scratch because it doesn't have any specialty ingredients, just the regular ones found in regular pantries. The first time I made this red velvet cake recipes from scratch, I was about 11 or 12 years old and I didn't know then that this was called red velvet cake. My mother had a set of tiny bottles of food coloring (red, blue, green and yellow) and I was planning to use all four on separate cakes. It so happened that I chose the color red first. Subsequently, I also tried the remaining three food dyes and they didn't quite take as nicely as the first red one. Although the creamy, velvety texture of the cake persists, red does enhance the palatability of the cake.
The traditional frosting or icing is white to better magnify the redness of the cake. Of course, baking is such a creative art that you can substitute many other icings or frosting as your heart may desire. For Valentine's Day, this cake is most splendid, especially topped with syrupy cherries or strawberries.
Ingredients:
– 3 tablespoons red food coloring
– 1/4 cup cocoa
– 1/2 cup palm oil
– 1-1/2 cups sugar
– 2 eggs
– 1 cup whole cow's milk
– 2 cups all-purpose flour
– 1/2 teaspoon salt
– 1 teaspoon vanilla
– 1 teaspoon baking powder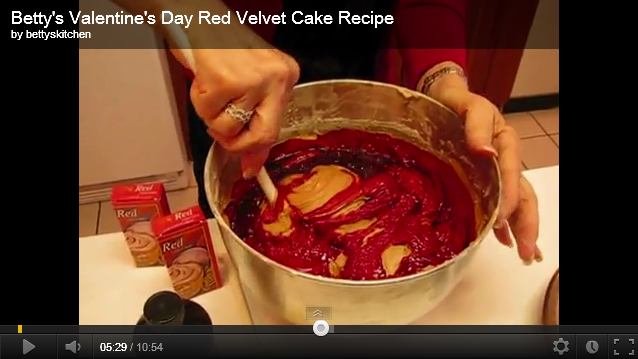 Directions:
– Prepare a round baking pan by greasing it lightly and sprinkling lightly with flour.
– Pre-heat oven to 350 degrees Fahrenheit.
– Combine the food coloring and cocoa; set aside.
– Cream the oil and the sugar in a mixing bowl.
– Add the eggs and cocoa and beat until fluffy.
– Add the milk, flour, salt, baking powder and vanilla.
– Mix well with a hand mixer on medium speed.
– Pour into the baking pan.
– Bake for about 30 minutes or until the cake is done.
The Red Velvet Cake Icing
Ingredients:
– 3 tablespoons flour
– 1 cup milk
– 1 stick butter (softened)
– 3 tablespoons palm oil
– 1 cup confectioner's sugar
– 1 teaspoon cherry or strawberry flavor extract
Directions:
– Cook flour and milk until thickened.
– Set aside to cool.
– Cream butter and oil until fluffy.
– Add sugar and beat again.
– Add either cherry flavor or strawberry extract and beat well.
– Add the cooled flour mixture.
– Continue to beat into a creamy consistency.
– Spread evenly on the cooled cake.
Pin It