Carrot cake recipe is very tasty and nutritious. It is denser than normal cake and when you remove the sugar from the ingredients it becomes even more healthy. Here is a perfect sugar free carrot cake recipe that is moist and delicious, and is very suitable for diabetics too.
Ingredients:
– 4 egg whites
– 2 whole eggs
– 1/3 cup canola oil
– 1/3 cup unsweetened applesauce (you can skip the applesauce and use more apple juice if you wish)
– 1 cup apple juice concentrate
– 1/4 cup water (skip the water if you are not using the applesauce)
– 3 cups whole grain flour
– 1 tablespoon baking powder
– 1 teaspoon baking soda
– 1 teaspoon salt
– 2 tablespoons ground cinnamon
– 1/4 teaspoon grated nutmeg
– 1 cup raisins
– 2 1/2 cups shredded carrots
Method:
– Preheat the oven to 350F.
– Grease two 9-inch cake pans.
– Beat the egg whites into soft peaks and add in the rest of the eggs.
– Stir in the applesauce, apple concentrate, water and oil and mix well.
– In a separate bowl, sift together the flour, baking powder, baking soda, salt, ground cinnamon and grated nutmeg.
– Add the dry ingredients to the wet mixture and mix well.
– Stir in the grated carrots and fold the mix well. Add in the raisins.
– Pour the batter in the greased cake pans equally.
– Bake at 350F for about 25-30 minutes. Lower the temperature to 325F and bake for another 10 minutes.
– Check by inserting a toothpick in the center of the cake and if it comes out clean the cake is done.
– Cool on a wire rack before serving.
Sugar free frosting for the cake:
Ingredients:
– 1 1/2 cups fat free cream cheese frosting
– 1 1/2 teaspoons butter
– 1 cup splenda (according to taste)
– 2 teaspoons vanilla extract
Method:
– Blend the splenda in a mixer to make it fine like confectioner's sugar.
– Combine with cream cheese frosting and butter and beat well to make it smooth.
– Add the vanilla extract.
– Let the frosting chill in the fridge for some time to firm it up before using.
Assembling the cake:
– Place one cake on a cake stand.
– Spread a layer of frosting over the top and press the other cake on top of it.
– Cover the top and sides of the cake with the rest of the frosting.
– Let the frosting set for some time before serving the cake.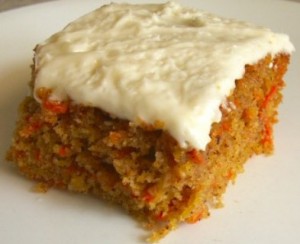 Pin It