The dark and rich color of red velvet cake recipe gives a simple chocolate cake a very exotic look and taste. There are many versions of red velvet cake recipes but one thing is the same: they all taste great. Here is my version of one of the best chocolate red velvet cake recipes from scratch.
Ingredients:
– 1 cup unsalted butter
– 1 1/4 cups sugar
– 1 1/4 cups light brown sugar
– 6 large eggs
– 2 teaspoons vanilla extract
– 3 cups all-purpose flour
– 1/4 tablespoon baking soda
– 1 cup sour cream
– 1/4 cup dark cocoa
– 1/2 teaspoon baking powder
– 15 ml red food coloring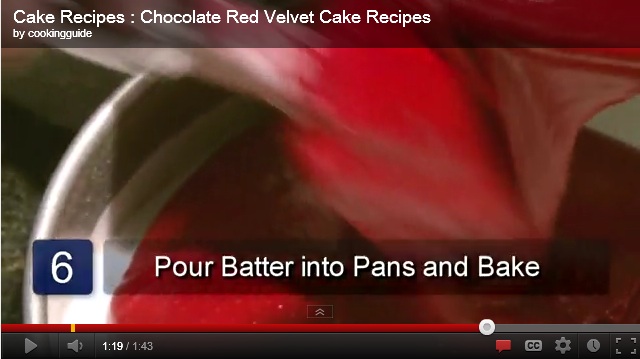 Instructions:
– Preheat the oven to 325F.
– Grease and flour three round cake pans.
– In a mixing bowl, cream the butter using an electric mixer on medium speed.
– Add the sugars to the butter beating well after each addition.
– Add the eggs, one by one, to the butter and sugar mix and beat the mix well to incorporate the eggs.
– Add the vanilla extract and mix well.
– In a separate bowl, sift the flour, baking powder, baking soda and cocoa powder.
– Add 1 cup of flour mix to the egg mix alternating with 1/3 cup of sour cream and blend well after each addition.
– Now add the flour-sour cream mix to the egg-butter mix, one cup at a time, and blend well.
– Add the food coloring and beat well.
– Pour the cake batter in the greased cake pans.
– Bake in the preheated oven for 45 minutes or until the cake layers look done.
– Remove from the oven and cool on wire racks before using frosting. Make sure that the cakes are cooled completely before you start icing or frosting.
Chocolate Hazelnut Frosting for the cakes
Ingredients:
– 500 grams cream cheese
– 2 cups roughly chopped dark chocolate
– 2 squares baking chocolate
– 1 cup powdered sugar
– 1 teaspoon vanilla
– 1 cup roasted hazelnuts, chopped
Instructions:
– Melt the chocolates on a double boiler or in the microwave for 2-3 minutes. Mix well.
– Remove from the heat and cool completely.
– Add the softened cream cheese and vanilla to the chocolate mix and mix well.
– Stir in the chopped hazelnuts.
– Place one cake layer on a serving stand and spread a thin layer of frosting over it.
– Place another layer on top and press lightly.
– Spread another thin layer of frosting on the top.
– Press another layer on the top.
– Cover the top and sides with the remaining frosting.
– Chill before serving.
Pin It